Office of Readings


Easter Sunday
First Reading
Exodus 14:15-15:1

The Lord said to Moses, 'Why do you cry to me so? Tell the sons of Israel to march on. For yourself, raise your staff and stretch out your hand over the sea and part it for the sons of Israel to walk through the sea on dry ground. I for my part will make the heart of the Egyptians so stubborn that they will follow them. So shall I win myself glory at the expense of Pharaoh, of all his army, his chariots, his horsemen. And when I have won glory for myself, at the expense of Pharaoh and his chariots and his army, the Egyptians will learn that I am the Lord.'

Then the angel of God, who marched at the front of the army of Israel, changed station and moved to their rear. The pillar of cloud changed station from the front to the rear of them, and remained there. It came between the camp of the Egyptians and the camp of Israel. The cloud was dark, and the night passed without the armies drawing any closer the whole night long.

Moses stretched out his hand over the sea. The Lord drove back the sea with a strong easterly wind all night, and he made dry land of the sea. The waters parted and the sons of Israel went on dry ground right into the sea, walls of water to right and to left of them. The Egyptians gave chase: after them they went, right into the sea, all Pharaoh's horses, his chariots, and his horsemen.

In the morning watch, the Lord looked down on the army of the Egyptians from the pillar of fire and of cloud, and threw the army into confusion. He so clogged their chariot wheels that they could scarcely make headway. 'Let us flee from the Israelites,' the Egyptians cried. 'The Lord is fighting for them against the Egyptians!'

'Stretch out your hand over the sea,' the Lord said to Moses, 'that the waters may flow back on the Egyptians and their chariots and their horsemen.'
Moses stretched out his hand over the sea and, as day broke, the sea returned to its bed. The fleeing Egyptians marched right into it, and the Lord overthrew the Egyptians in the very middle of the sea. The returning waters overwhelmed the chariots and the horsemen of Pharaoh's whole army, which had followed the Israelites into the sea; not a single one of them was left. But the sons of Israel had marched through the sea on dry ground, walls of water to right and to left of them.

That day, the Lord rescued Israel from the Egyptians, and Israel saw the Egyptians lying dead on the shore. Israel witnessed the great act that the Lord had performed against the Egyptians, and the people venerated the Lord; they put their faith in the Lord and in Moses, his servant.
It was then that Moses and the sons of Israel sang this song in honour of the Lord:
Second Reading
Ezekiel 36:16-28
The word of the Lord was addressed to me as follows: 'Son of man, the members of the House of Israel used to live in their own land, but they defiled it by their conduct and actions; to me their conduct was as unclean as a woman's menstruation. I then discharged my fury at them because of the blood they shed in their land and the idols with which they defiled it. I scattered them among the nations and dispersed them in foreign countries. I sentenced them as their conduct and actions deserved. And now they have profaned my holy name among the nations where they have gone, so that people say of them, "These are the people of the Lord; they have been exiled from his land." But I have been concerned about my holy name, which the House of Israel has profaned among the nations where they have gone. And so, say to the House of Israel, "The Lord says this: I am not doing this for your sake, House of Israel, but for the sake of my holy name, which you have profaned among the nations where you have gone. I mean to display the holiness of my great name, which has been profaned among the nations, which you have profaned among them. And the nations will learn that I am the Lord–it is the Lord who speaks– when I display my holiness for your sake before their eyes. Then I am going to take you from among the nations and gather you together from all the foreign countries, and bring you home to your own land. I shall pour clean water over you and you will be cleansed; I shall cleanse you of all your defilement and all your idols. I shall give you a new heart, and put a new spirit in you; I shall remove the heart of stone from your bodies and give you a heart of flesh instead. I shall put my spirit in you, and make you keep my laws and sincerely respect my observances. You will live in the land which I gave your ancestors. You shall be my people and I will be your God.
Third Reading
Romans 6:3-11
When we were baptised in Christ Jesus we were baptised in his death; in other words, when we were baptised we went into the tomb with him and joined him in death, so that as Christ was raised from the dead by the Father's glory, we too might live a new life.

If in union with Christ we have imitated his death, we shall also imitate him in his resurrection. We must realise that our former selves have been crucified with him to destroy this sinful body and to free us from the slavery of sin. When a Christian dies, of course, he has finished with sin.

But we believe that having died with Christ we shall return to life with him: Christ, as we know, having been raised from the dead will never die again. Death has no power over him any more. When he died, he died, once for all, to sin, so his life now is life with God; and in that way, you too must consider yourselves to be dead to sin but alive for God in Christ Jesus.
Fourth Reading
Matthew 28:1-10

After the sabbath, and towards dawn on the first day of the week, Mary of Magdala and the other Mary went to visit the sepulchre. And all at once there wasa violent earthquake, for the angel of the Lord, descending from heaven, came and rolled away the stone and sat on it. His face was like lightning, his robe white as snow. The guards were so shaken, so frightened of him, that they were like dead men. But the angel spoke; and he said to the women, 'There is no need for you to be afraid. I know you are looking for Jesus, who was crucified. He is not here, for he has risen, as he said he would. Come and see the place where he lay, then go quickly and tell his disciples, "He has risen from the dead and now he is going before you to Galilee; it is there you will see him." Now I have told you.' Filled with awe and great joy the women came quickly away from the tomb and ran to tell the disciples.

And there, coming to meet them, was Jesus. 'Greetings' he said. And the women came up to him and, falling down before him, clasped his feet. Then Jesus said to them, 'Do not be afraid; go and tell my brothers that they must leave for Galilee; they will see me there.'



Easter Monday
First Reading
1 Peter 1:1-21
Peter, apostle of Jesus Christ, sends greetings to all those living among foreigners in the Dispersion of Pontus, Galatia, Cappadocia, Asia and Bithynia, who have been chosen, by the provident purpose of God the Father, to be made holy by the Spirit, obedient to Jesus Christ and sprinkled with his blood. Grace and peace be with you more and more.

Blessed be God the Father of our Lord Jesus Christ, who in his great mercy has given us a new birth as his sons, by raising Jesus Christ from the dead, so that we have a sure hope and the promise of an inheritance that can never be spoilt or soiled and never fade away, because it is being kept for you in the heavens. Through your faith, God's power will guard you until the salvation which has been prepared is revealed at the end of time. This is a cause of great joy for you, even though you may for a short time have to bear being plagued by all sorts of trials; so that, when Jesus Christ is revealed, your faith will have been tested and proved like gold – only it is more precious than gold, which is corruptible even though it bears testing by fire – and then you will have praise and glory and honour. You did not see him, yet you love him; and still without seeing him, you are already filled with a joy so glorious that it cannot be described, because you believe; and you are sure of the end to which your faith looks forward, that is, the salvation of your souls.

It was this salvation that the prophets were looking and searching so hard for; their prophecies were about the grace which was to come to you. The Spirit of Christ which was in them foretold the sufferings of Christ and the glories that would come after them, and they tried to find out at what time and in what circumstances all this was to be expected. It was revealed to them that the news they brought of all the things which have now been announced to you, by those who preached to you the Good News through the Holy Spirit sent from heaven, was for you and not for themselves. Even the angels long to catch a glimpse of these things.

Free your minds, then, of encumbrances; control them, and put your trust in nothing but the grace that will be given you when Jesus Christ is revealed. Do not behave in the way that you liked to before you learnt the truth; make a habit of obedience: be holy in all you do, since it is the Holy One who has called you, and scripture says: Be holy, for I am holy.

If you are acknowledging as your Father one who has no favourites and judges everyone according to what he has done, you must be scrupulously careful as long as you are living away from your home. Remember, the ransom that was paid to free you from the useless way of life your ancestors handed down was not paid in anything corruptible, neither in silver nor gold, but in the precious blood of a lamb without spot or stain, namely Christ; who, though known since before the world was made, has been revealed only in our time, the end of the ages, for your sake. Through him you now have faith in God, who raised him from the dead and gave him glory for that very reason – so that you would have faith and hope in God.
Second Reading
From an Easter homily by Melito of Sardis, bishop
The Easter praise of Christ
We should understand, beloved, that the paschal mystery is at once old and new, transitory and eternal, corruptible and incorruptible, mortal and immortal. In terms of the Law it is old, in terms of the Word it is new. In its figure it is passing, in its grace it is eternal. It is corruptible in the sacrifice of the lamb, incorruptible in the eternal life of the Lord. It is mortal in his burial in the earth, immortal in his resurrection from the dead.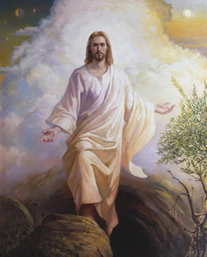 The Law indeed is old, but the Word is new. The type is transitory, but grace is eternal. The lamb was corruptible, but the Lord is incorruptible. He was slain as a lamb; he rose again as God. He was led like a sheep to the slaughter, yet he was not a sheep. He was silent as a lamb, yet he was not a lamb. The type has passed away; the reality has come. The lamb gives place to God, the sheep gives place to a man, and the man is Christ, who fills the whole of creation. The sacrifice of the lamb, the celebration of the Passover, and the prescriptions of the Law have been fulfilled in Jesus Christ. Under the old Law, and still more under the new dispensation, everything pointed toward him.

Both the Law and the Word came forth from Zion and Jerusalem, but now the Law has given place to the Word, the old to the new. The commandment has become grace, the type a reality. The lamb has become a Son, the sheep a man, and man, God.

The Lord, though he was God, became man. He suffered for the sake of those who suffer, he was bound for those in bonds, condemned for the guilty, buried for those who lie in the grave; but he rose from the dead, and cried aloud: Who will contend with me? Let him confront me. I have freed the condemned, brought the dead back to life, raised men from their graves. Who has anything to say against me? I, he said, am the Christ; I have destroyed death, triumphed over the enemy, trampled hell underfoot, bound the strong one, and taken men up to the heights of heaven: I am the Christ.

Come, then, all you nations of men, receive forgiveness for the sins that defile you. I am your forgiveness. I am the Passover that brings salvation. I am the lamb who was immolated for you. I am your ransom, your life, your resurrection, your light, I am your salvation and your king. I will bring you to the heights of heaven. With my own right hand I will raise you up, and I will show you the eternal Father.

Easter Tuesday
First Reading
1 Peter 1:22-2:10
You have been obedient to the truth and purified your souls until you can love like brothers, in sincerity; let your love for each other be real and from the heart – your new birth was not from any mortal seed but from the everlasting word of the living and eternal God. All flesh is grass and its glory like the wild flower's. The grass withers, the flower falls, but the word of the Lord remains for ever. What is this word? It is the Good News that has been brought to you.

Be sure, then, you are never spiteful, or deceitful, or hypocritical, or envious and critical of each other. You are new born, and, like babies, you should be hungry for nothing but milk – the spiritual honesty which will help you to grow up to salvation – now that you have tasted the goodness of the Lord.

He is the living stone, rejected by men but chosen by God and precious to him; set yourselves close to him so that you too, the holy priesthood that offers the spiritual sacrifices which Jesus Christ has made acceptable to God, may be living stones making a spiritual house. As scripture says: See how I lay in Zion a precious cornerstone that I have chosen and the man who rests his trust on it will not be disappointed. That means that for you who are believers, it is precious; but for unbelievers, the stone rejected by the builders has proved to be the keystone, a stone to stumble over, a rock to bring men down. They stumble over it because they do not believe in the word; it was the fate in store for them.

But you are a chosen race, a royal priesthood, a consecrated nation, a people set apart to sing the praises of God who called you out of the darkness into his wonderful light. Once you were not a people at all and now you are the People of God; once you were outside the mercy and now you have been given mercy.
Second Reading
From a discourse by Saint Anastasius of Antioch
It was necessary that Christ should suffer and so enter into his glory
Christ, who has shown by his words and actions that he was truly God and Lord of the universe, said to his disciples as he was about to go up to Jerusalem: We are going up to Jerusalem now, and the Son of Man will be handed over to the Gentiles and the chief priests and scribes to be scourged and mocked and crucified.
These words bore out the predictions of the prophets, who had foretold the death he was to die in Jerusalem. From the beginning holy Scripture had foretold Christ's death, the sufferings that would precede it, and what would happen to his body afterwards. Scripture also affirmed that these things were going to happen to the God who is immortal and incapable of suffering.

How could he have been God? We can learn this by reflecting on the true nature of the Incarnation and finding there the reason why we can believe truly and rightly in both his passion and his impassibility: both that he suffered and that it was not in his nature to suffer – the reason, in other words, why the Word of God, otherwise impassible, came to his passion. In fact, man could have been saved in no other way, as Christ alone knew, and those to whom he revealed it; for he knows all the secrets of the Father, even as the Spirit penetrates the depths of all mysteries.
It was necessary for Christ to suffer: it was impossible for his passion not to have happened. He said so himself when he called his companions dull and slow to believe because they failed to recognise that he had to suffer and so enter into his glory. Leaving behind him the glory that had been his with the Father before the world was made, he had gone forth to save his people. This salvation, however, could be achieved only by the suffering of the author of our life, as Paul taught when he said that the author of life himself was made perfect through suffering. Because of us he was deprived of his glory for a little while, the glory that was his as the Father's only-begotten Son, but through the cross this glory is seen to have been restored to him in a certain way in the body that he had assumed. Explaining what water the Saviour referred to when he said: He that has faith in me shall have rivers of living water flowing from within him, John says in his gospel that he was speaking of the Holy Spirit which those who believed in him were to receive, for the Spirit had not yet been given because Jesus had not yet been glorified. The glorification he meant was his death upon the cross for which the Lord prayed to the Father before undergoing his passion, asking his Father to give him the glory that he had in his presence before the world began.


Easter Wednesday
First Reading
1 Peter 2:11-25
I urge you, my dear people, while you are visitors and pilgrims to keep yourselves free from the selfish passions that attack the soul. Always behave honourably among pagans so that they can see your good works for themselves and, when the day of reckoning comes, give thanks to God for the things which now make them denounce you as criminals.

For the sake of the Lord, accept the authority of every social institution: the emperor, as the supreme authority, and the governors as commissioned by him to punish criminals and praise good citizenship. God wants you to be good citizens, so as to silence what fools are saying in their ignorance. You are slaves of no one except God, so behave like free men, and never use your freedom as an excuse for wickedness. Have respect for everyone and love for our community; fear God and honour the emperor.

Slaves must be respectful and obedient to their masters, not only when they are kind and gentle but also when they are unfair. You see, there is some merit in putting up with the pains of unearned punishment if it is done for the sake of God but there is nothing meritorious in taking a beating patiently if you have done something wrong to deserve it. The merit, in the sight of God, is in bearing it patiently when you are punished after doing your duty.

This, in fact, is what you were called to do, because Christ suffered for you and left an example for you to follow the way he took. He had not done anything wrong, and there had been no perjury in his mouth. He was insulted and did not retaliate with insults; when he was tortured he made no threats but he put his trust in the righteous judge. He was bearing our faults in his own body on the cross, so that we might die to our faults and live for holiness; through his wounds you have been healed. You had gone astray like sheep but now you have come back to the shepherd and guardian of your souls.

Second Reading
From an Easter homily by an ancient author
Christ the source of resurrection and life
Saint Paul rejoices in the knowledge that spiritual health has been restored to the human race. Death entered the world through Adam, he explains, but life has been given back to the world through Christ. Again he says: The first man, being from the earth, is earthly by nature; the second man is from heaven and it is heavenly. As we have borne the image of the earthly man, the image of human nature grown old in sin, so let us bear the image of the heavenly man: human nature raised up, redeemed, restored and purified in Christ. We must hold fast to the salvation we have received. Christ was the first fruits', says the Apostle; he is the source of resurrection and life. 'Those who belong to Christ will follow him. Modelling their lives on his purity, they will be secure in the hope of his resurrection and of enjoying with him the glory promised in heaven. Our Lord himself said so in the gospel: Whoever follows me will not perish, but will pass from death to life.
Thus the passion of our Saviour is the salvation of mankind. The reason why he desired to die for us was that he wanted us who believe in him to live for ever. In the fullness of time it was his will to become what we are, so that we might inherit the eternity he promised and live with him for ever.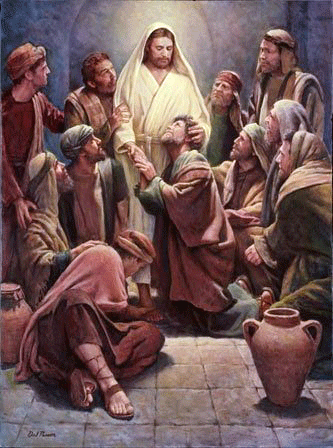 Here, then, is the grace conferred by these heavenly mysteries, the gift which Easter brings, the most longed for feast of the year; here are the beginnings of creatures newly formed: children born from the life giving font of holy Church, born anew with the simplicity of little ones, and crying out with the evidence of a clean conscience. Chaste fathers and inviolate mothers accompany this new family, countless in number, born to new life through faith. As they emerge from the grace giving womb of the font, a blaze of candles burns brightly beneath the tree of faith. The Easter festival brings the grace of holiness from heaven to men. Through the repeated celebration of the sacred mysteries they receive the spiritual nourishment of the sacraments. Fostered at the very heart of holy Church, the fellowship of one community worships the one God, adoring the triple name of his essential holiness, and together with the prophet sings the psalm which belongs to this yearly festival: This is the day the Lord has made; let us rejoice and be glad. And what is this day? It is the Lord Jesus Christ himself, the author of light, who brings the sunrise and the beginning of life, saying of himself: I am the light of day; whoever walks in daylight does not stumble. That is to say, whoever follows Christ in all things will come by this path to the throne of eternal light.

Such was the prayer Christ made to the Father while he was still on earth: Father, I desire that where I am they also may be, those who have come to believe in me; and that as you are in me and I in you, so they may abide in us.


Easter Thursday
First Reading
1 Peter 3:1-17
Wives should be obedient to their husbands. Then, if there are some husbands who have not yet obeyed the word, they may find themselves won over, without a word spoken, by the way their wives behave, when they see how faithful and conscientious they are. Do not dress up for show: doing up your hair, wearing gold bracelets and fine clothes; all this should be inside, in a person's heart, imperishable: the ornament of a sweet and gentle disposition – this is what is precious in the sight of God. That was how the holy women of the past dressed themselves attractively – they hoped in God and were tender and obedient to their husbands; like Sarah, who was obedient to Abraham, and called him her lord. You are now her children, as long as you live good lives and do not give way to fear or worry.

In the same way, husbands must always treat their wives with consideration in their life together, respecting a woman as one who, though she may be the weaker partner, is equally an heir to the life of grace. This will stop anything from coming in the way of your prayers.

Finally: you should all agree among yourselves and be sympathetic; love the brothers, have compassion and be self-effacing. Never pay back one wrong with another, or an angry word with another one; instead, pay back with a blessing. That is what you are called to do, so that you inherit a blessing yourself. Remember: Anyone who wants to have a happy life and to enjoy prosperity must banish malice from his tongue, deceitful conversation from his lips; he must never yield to evil but must practise good; he must seek peace and pursue it. Because the face of the Lord frowns on evil men, but the eyes of the Lord are turned towards the virtuous.

No one can hurt you if you are determined to do only what is right; if you do have to suffer for being good, you will count it a blessing. There is no need to be afraid or to worry about them. Simply reverence the Lord Christ in your hearts, and always have your answer ready for people who ask you the reason for the hope that you all have. But give it with courtesy and respect and with a clear conscience, so that those who slander you when you are living a good life in Christ may be proved wrong in the accusations that they bring. And if it is the will of God that you should suffer, it is better to suffer for doing right than for doing wrong.

Second Reading
From the Jerusalem Catecheses
Baptism is a symbol of Christ's passion
You were led down to the font of holy baptism just as Christ was taken down from the cross and placed in the tomb which is before your eyes. Each of you was asked, "Do you believe in the name of the Father, and of the Son, and of the Holy Spirit?" You made the profession of faith that brings salvation, you were plunged into the water, and three times you rose again. This symbolised the three days Christ spent in the tomb.

As our Saviour spent three days and three nights in the depths of the earth, so your first rising from the water represented the first day and your first immersion represented the first night. At night a man cannot see, but in the day he walks in the light. So when you were immersed in the water it was like night for you and you could not see, but when you rose again it was like coming into broad daylight. In the same instant you died and were born again; the saving water was both your tomb and your mother.

Solomon's phrase in another context is very apposite here. He spoke of a time to give birth, and a time to die. For you, however, it was the reverse: a time to die, and a time to be born, although in fact both events took place at the same time and your birth was simultaneous with your death.

This is something amazing and unheard of! It was not we who actually died, were buried and rose again. We only did these things symbolically, but we have been saved in actual fact. It is Christ who was crucified, who was buried and who rose again, and all this has been attributed to us. We share in his sufferings symbolically and gain salvation in reality. What boundless love for men! Christ's undefiled hands were pierced by the nails; he suffered the pain. I experience no pain, no anguish, yet by the share that I have in his sufferings he freely grants me salvation.

Let no one imagine that baptism consists only in the forgiveness of sins and in the grace of adoption. Our baptism is not like the baptism of John, which conferred only the forgiveness of sins. We know perfectly well that baptism, besides washing away our sins and bringing us the gift of the Holy Spirit, is a symbol of the sufferings of Christ. This is why Paul exclaims: Do you not know that when we were baptized into Christ Jesus we were, by that very action, sharing in his death? By baptism we went with him into the tomb.


Easter Friday
First Reading
1 Peter 3:18-4:11
Why, Christ himself, innocent though he was, had died once for sins, died for the guilty, to lead us to God. In the body he was put to death, in the spirit he was raised to life, and, in the spirit, he went to preach to the spirits in prison. Now it was long ago, when Noah was still building that ark which saved only a small group of eight people 'by water', and when God was still waiting patiently, that these spirits refused to believe. That water is a type of the baptism which saves you now, and which is not the washing off of physical dirt but a pledge made to God from a good conscience, through the resurrection of Jesus Christ, who has entered heaven and is at God's right hand, now that he has made the angels and Dominations and Powers his subjects.

Think of what Christ suffered in this life, and then arm yourselves with the same resolution that he had: anyone who in this life has bodily suffering has broken with sin, because for the rest of his life on earth he is not ruled by human passions but only by the will of God. You spent quite long enough in the past living the sort of life that pagans live, behaving indecently, giving way to your passions, drinking all the time, having wild parties and drunken orgies and degrading yourselves by following false gods. So people cannot understand why you no longer hurry off with them to join this flood which is rushing down to ruin, and then they begin to spread libels about you. They will have to answer for it in front of the judge who is ready to judge the living and the dead. And because he is their judge too, the dead had to be told the Good News as well, so that though, in their life on earth, they had been through the judgement that comes to all humanity, they might come to God's life in the spirit.

Everything will soon come to an end, so, to pray better, keep a calm and sober mind. Above all, never let your love for each other grow insincere, since love covers over many a sin. Welcome each other into your houses without grumbling. Each one of you has received a special grace, so, like good stewards responsible for all these different graces of God, put yourselves at the service of others. If you are a speaker, speak in words which seem to come from God; if you are a helper, help as though every action was done at God's orders; so that in everything God may receive the glory, through Jesus Christ, since to him alone belong all glory and power for ever and ever. Amen.

Second Reading
From the Jerusalem Catecheses
The anointing with the Holy Spirit
When we were baptized into Christ and clothed ourselves in him, we were transformed into the likeness of the Son of God. Having destined us to be his adopted sons, God gave us a likeness to Christ in his glory, and living as we do in communion with Christ, God's anointed, we ourselves are rightly called "the anointed ones." When he said: Do not touch my anointed ones, God was speaking of us.


We became "the anointed ones" when we received the sign of the Holy Spirit. Indeed, everything took place in us by means of images, because we ourselves are images of Christ. Christ bathed in the river Jordan, imparting to its waters the fragrance of his divinity, and when he came up from them the Holy Spirit descended upon him, like resting upon like. So we also, after coming up from the sacred waters of baptism, were anointed with chrism, which signifies the Holy Spirit, by whom Christ was anointed and of whom blessed Isaiah prophesied in the name of the Lord: The Spirit of the Lord is upon me, because he has anointed me. He has sent me to preach good news to the poor.
Christ's anointing was not by human hands, nor was it with ordinary oil. On the contrary, having destined him to be the Saviour of the whole world, the Father himself anointed him with the Holy Spirit. The words of Peter bear witness to this: Jesus of Nazareth, whom God anointed with the Holy Spirit. And David the prophet proclaimed: Your throne, O God, shall endure for ever; your royal sceptre is a sceptre of justice. You have loved righteousness and hated iniquity; therefore God, your God, has anointed you with the oil of gladness above all your fellows.
The oil of gladness with which Christ was anointed was a spiritual oil; it was in fact the Holy Spirit himself, who is called the oil of gladness because he is the source of spiritual joy. But we too have been anointed with oil, and by this anointing we have entered into fellowship with Christ and have received a share in his life. Beware of thinking that this holy oil is simply ordinary oil and nothing else. After the invocation of the Spirit it is no longer ordinary oil but the gift of Christ, and by the presence of his divinity it becomes the instrument through which we receive the Holy Spirit. While symbolically, on our foreheads and senses, our bodies are anointed with this oil that we see, our souls are sanctified by the holy and life-giving Spirit.

Easter Saturday
First Reading
1 Peter 4:12-5:14
My dear people, you must not think it unaccountable that you should be tested by fire. There is nothing extraordinary in what has happened to you. If you can have some share in the sufferings of Christ, be glad, because you will enjoy a much greater gladness when his glory is revealed. It is a blessing for you when they insult you for bearing the name of Christ, because it means that you have the Spirit of glory, the Spirit of God resting on you. None of you should ever deserve to suffer for being a murderer, a thief, a criminal or an informer; but if anyone of you should suffer for being a Christian, then he is not to be ashamed of it; he should thank God that he has been called one. The time has come for the judgement to begin at the household of God; and if what we know now is only the beginning, what will it be when it comes down to those who refuse to believe God's Good News? If it is hard for a good man to be saved, what will happen to the wicked and to sinners? So even those whom God allows to suffer must trust themselves to the constancy of the creator and go on doing good.

Now I have something to tell your elders: I am an elder myself, and a witness to the sufferings of Christ, and with you I have a share in the glory that is to be revealed. Be the shepherds of the flock of God that is entrusted to you: watch over it, not simply as a duty but gladly, because God wants it; not for sordid money, but because you are eager to do it. Never be a dictator over any group that is put in your charge, but be an example that the whole flock can follow. When the chief shepherd appears, you will be given the crown of unfading glory.

To the rest of you I say: do what the elders tell you, and all wrap yourselves in humility to be servants of each other, because God refuses the proud and will always favour the humble. Bow down, then, before the power of God now, and he will raise you up on the appointed day; unload all your worries on to him, since he is looking after you. Be calm but vigilant, because your enemy the devil is prowling round like a roaring lion, looking for someone to eat. Stand up to him, strong in faith and in the knowledge that your brothers all over the world are suffering the same things. You will have to suffer only for a little while: the God of all grace who called you to eternal glory in Christ will see that all is well again: he will confirm, strengthen and support you. His power lasts for ever and ever. Amen.

I write these few words to you through Silvanus, who is a brother I know I can trust, to encourage you never to let go this true grace of God to which I bear witness. Your sister in Babylon, who is with you among the chosen, sends you greetings; so does my son, Mark. Greet one another with a kiss of love. Peace to you all who are in Christ.

Second Reading
From the Jerusalem Catecheses
The bread of Heaven and the cup of salvation

On the night he was betrayed our Lord Jesus Christ took bread, and when he had given thanks, he broke it and gave it to his disciples and said: "Take, eat: this is my body." He took the cup, gave thanks and said: "Take, drink: this is my blood." Since Christ himself has declared the bread to be his body, who can have any further doubt? Since he himself has said quite categorically, This is my blood, who would dare to question it and say that it is not his blood?

Therefore, it is with complete assurance that we receive the bread and wine as the body and blood of Christ. His body is given to us under the symbol of bread, and his blood is given to us under the symbol of wine, in order to make us by receiving them one body and blood with him. Having his body and blood in our members, we become bearers of Christ and sharers, as Saint Peter says, in the divine nature.


Once, when speaking to the Jews, Christ said: Unless you eat my flesh and drink my blood you shall have no life in you. This horrified them and they left him. Not understanding his words in a spiritual way, they thought the Saviour wished them to practise cannibalism.

Under the old covenant there was showbread, but it came to an end with the old dispensation to which it belonged. Under the new covenant there is bread from heaven and the cup of salvation. These sanctify both soul and body, the bread being adapted to the sanctification of the body, the Word, to the sanctification of the soul.

Do not, then, regard the eucharistic elements as ordinary bread and wine: they are in fact the body and blood of the Lord, as he himself has declared. Whatever your senses may tell you, be strong in faith.

You have been taught and you are firmly convinced that what looks and tastes like bread and wine is not bread and wine but the body and the blood of Christ. You know also how David referred to this long ago when he sang: Bread gives strength to man's heart and makes his face shine with the oil of gladness. Strengthen your heart, then, by receiving this bread as spiritual bread, and bring joy to the face of your soul.

May purity of conscience remove the veil from the face of your soul so that by contemplating the glory of the Lord, as in a mirror, you may be transformed from glory to glory in Christ Jesus our Lord. To him be glory for ever and ever. Amen.


2nd Sunday of Easter (Divine Mercy Sunday)
First Reading
Colossians 3:1-17
Since you have been brought back to true life with Christ, you must look for the things that are in heaven, where Christ is, sitting at God's right hand. Let your thoughts be on heavenly things, not on the things that are on the earth, because you have died, and now the life you have is hidden with Christ in God. But when Christ is revealed – and he is your life – you too will be revealed in all your glory with him.

That is why you must kill everything in you that belongs only to earthly life: fornication, impurity, guilty passion, evil desires and especially greed, which is the same thing as worshipping a false god; all this is the sort of behaviour that makes God angry. And it is the way in which you used to live when you were surrounded by people doing the same thing, but now you, of all people, must give all these things up: getting angry, being bad-tempered, spitefulness, abusive language and dirty talk; and never tell each other lies. You have stripped off your old behaviour with your old self, and you have put on a new self which will progress towards true knowledge the more it is renewed in the image of its creator; and in that image there is no room for distinction between Greek and Jew, between the circumcised or the uncircumcised, or between barbarian and Scythian, slave and free man. There is only Christ: he is everything and he is in everything.

You are God's chosen race, his saints; he loves you, and you should be clothed in sincere compassion, in kindness and humility, gentleness and patience. Bear with one another; forgive each other as soon as a quarrel begins. The Lord has forgiven you; now you must do the same. Over all these clothes, to keep them together and complete them, put on love. And may the peace of Christ reign in your hearts, because it is for this that you were called together as parts of one body. Always be thankful.

Let the message of Christ, in all its richness, find a home with you. Teach each other, and advise each other, in all wisdom. With gratitude in your hearts sing psalms and hymns and inspired songs to God; and never say or do anything except in the name of the Lord Jesus, giving thanks to God the Father through him.

Second Reading
From a sermon by Saint Augustine
A new creation in Christ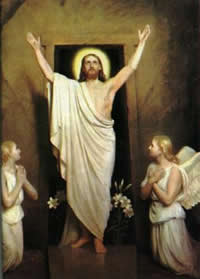 I speak to you who have just been reborn in baptism, my little children in Christ, you who are the new offspring of the Church, gift of the Father, proof of Mother Church's fruitfulness. All of you who stand fast in the Lord are a holy seed, a new colony of bees, the very flower of our ministry and fruit of our toil, my joy and my crown. It is the words of the Apostle that I address to you: Put on the Lord Jesus Christ, and make no provision for the flesh and its desires, so that you may be clothed with the life of him whom you have put on in this sacrament. You have all been clothed with Christ by your baptism in him. There is neither Jew nor Greek; there is neither slave nor freeman; there is neither male nor female; you are all one in Christ Jesus.
Such is the power of this sacrament: it is a sacrament of new life which begins here and now with the forgiveness of all past sins, and will be brought to completion in the resurrection of the dead. You have been buried with Christ by baptism into death in order that, as Christ has risen from the dead, you also may walk in newness of life.
You are walking now by faith, still on pilgrimage in a mortal body away from the Lord; but he to whom your steps are directed is himself the sure and certain way for you: Jesus Christ, who for our sake became man. For all who fear him he has stored up abundant happiness, which he will reveal to those who hope in him, bringing it to completion when we have attained the reality which even now we possess in hope.

This is the octave day of your new birth. Today is fulfilled in you the sign of faith that was prefigured in the Old Testament by the circumcision of the flesh on the eighth day after birth. When the Lord rose from the dead, he put off the mortality of the flesh; his risen body was still the same body, but it was no longer subject to death. By his resurrection he consecrated Sunday, or the Lord's day. Though the third after his passion, this day is the eighth after the Sabbath, and thus also the first day of the week.

And so your own hope of resurrection, though not yet realised, is sure and certain, because you have received the sacrament or sign of this reality, and have been given the pledge of the Spirit. If, then, you have risen with Christ, seek the things that are above, where Christ is seated at the right hand of God. Set your hearts on heavenly things, not the things that are on earth. For you have died and your life is hidden with Christ in God. When Christ, your life, appears, then you too will appear with him in glory.

Return to Hearts of Prayer: the Sacred Liturgy...

Return to the Main Page for the Easter Season...