"MY IMMACULATE HEART WILL TRIUMPH"
Mother Adela, SCTJM
Foundress
For private use only -©
Mother Adela's words at the conclusion of the blessing and dedication of the grotto of Our Lady of Fatima at St. Michael the Archangel Parish, Miami, FL
December 16, 2009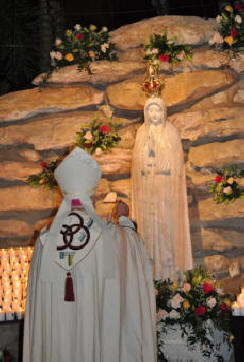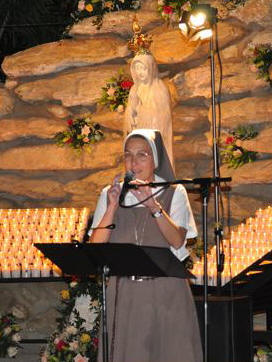 A great fountain of maternal love has opened today at St. Michael Parish by solemnly dedicating and blessing the Grotto that was built in honor of our Lady of Fatima! I think we can perceive with gratitude and reverence, the detail of love that this dedication took place today- on the first day of the Novena to the Child Jesus. With great confidence we could read into this sign how the Lord has wanted that a little House- this grotto, would be built here for His Mother, preparing in this way the birth of the Child. What a beautiful Christmas will be celebrated by this parish -which has prepared with so much love and dedication a little house so that the Mother of the Redeemer can spiritually give birth to the Child in each of our hearts. What a significant Advent for this parish, and for our entire Archdiocese: we have built- like St. Joseph, a little House- a stable so that the Mother can communicate with total freedom and generosity the life of Jesus she carries in her heart and in her maternal womb.

In each of her apparitions, which are a particular manifestation of her presence and maternal mediation, the Blessed Virgin Mary asks that a sanctuary be built, a grotto, a little house. The Mother is always concerned for us to "build a house" where she can bring her children to pray, and then through prayer- bring them closer to the Heart of God. In this "little House," sanctuary or grotto, she wants to lead us to more profoundly contemplate the mysteries of the life of Her Son. That is why in each place consecrated to Her, she invites us to pray and meditate with the eyes of her heart, the Holy Rosary. In these places dedicated to our Mother- these little Bethlehem's and Nazareth's, She wants to nourish, form and mold us so that we may grow in spiritual and human grace, wisdom and stature, helping us every day more and more resemble her Son. In her "little houses" multiplied all over the world, She who is the shortest way, the most perfect way, the easiest and most direct way," to reach Christ (as St. Luis M Grignon de Monfort teaches us), she quickly and with determination leads us to a personal encounter with her Son in the Sacraments. In these places consecrated to her Maternal Heart, the Blessed Virgin Mary obtains for us, like at Cana, the miracle of the wine we are lacking.

Our Mother, asks us to build "sanctuaries, little houses, grottos" as visible signs of her maternal care, signs that reveal to us that her Heart is a place of refuge, of rest, of consolation, of protection… a place where she may keep watch over us and as the Servant of God, Sr. Lucia- would say, in her second apparition: "You suffer for this? "My Immaculate Heart will be your refuge and the way that will lead you to God," or as San Juan Diego would say: I strongly desire that a temple would be built here, so that in it I may demonstrate and give all of my love, compassion, help, defense; for I am your merciful mother… so that there I may hear your cries, and remedy all your miseries, pains and sufferings.... She asks for places where she can look into our eyes and say: "Am I not here who am your Mother?"

Each grotto, each sanctuary solemnly dedicated to the Blessed Mother, reminds us of the powerful action of God in history. It reminds us of the unique intervention of God in a historic moment, bursting into the life of humanity to remind us of His constant search for the human heart. This grotto is a living memory of the gift we received of the presence of our Lady of Fatima, Portugal in 1917; it is a living memory of each word of the Blessed Mother, with her maternal pedagogy, wanting to teach us, admonish, us, direct us and form us. It is living memory of each call... of each warning, of each path traversed by the Immaculate Hands of the Blessed Mother. This grotto reminds us, but with the memory that not only looks to the past as a longed-for memory, but also as a present that is actualized by the power of salvific grace. This grotto is a living memory of certain promises of the Blessed Mother's Maternal Heart that were light for Lucia, Jacinta and Francisco's paths. They are also a lamp that illumines our paths: "At the end my Immaculate Heart, will triumph."

This motto, written over this grotto- reminds us of that beautiful and real promise of the Blessed Mother. This motto represents the particular grace that our Mother will reach for each one of our hearts in this place. We could say this grotto is dedicated to being a living reality of this promise, of being a place particularly consecrated for our hearts to experience in a real way, in an incarnated way: the triumph of grace over sin, the triumph of love over selfishness, the triumph of light over darkness, the triumph of truth over error, the triumph of God's order and harmony over the disorder and disorientation of our hearts. Many of us will come here inside this grotto at the feet our Mother with our joys, our sufferings; we will come with our crosses, battles, sicknesses, anguishes, conflicts and great difficulties. We will come with all the realities of our life in this valley of tears. But we will also come with the confidence that her Maternal and Immaculate Heart inspires, as she tells us that at the end of each one of these situations -her love will triumph. It will triumph, however, if within her Heart we allow ourselves to be transformed for this triumph, if we allow ourselves to be directed by her, to make of each battle that we face, of each difficulty that we confront, of each sickness that overcomes us, of each economic crisis that affixiates us, of each family situation or crisis that pierces our hearts, yes, of each battle- if we allow Her to teach us with Immaculate wisdom to give to God a great triumph. That is what is meant with, "At the end my Immaculate Heart will triumph:" that at the end of each one of our arduous and painful battles, we make room in our hearts for God, so that the potency of His Love directs all our options, all our paths, all our thoughts and feelings, to give to God, to His Grace, to His Mercy to His Love, a greater triumph.

"At the end her Immaculate Heart will triumph"- what a luminous motto! Today, here at St Michael the Archangel parish a fountain of maternal love has opened. A fountain opened at the moment that our Archbishop blessed and dedicated this grotto, making it a sacred place. A fountain opened here in the heart of our Archdiocese- when the Petrine charism crowned our Blessed Mother and sealed with his Episcopal authority the charism of this grotto- a place that gives total freedom to the triumph of the Immaculate Heart in our hearts.

May we receive in this grotto, the grace to be more identified with the heart of the Blessed Mother, heart, that as we heard in the prayer of Dedication, was a wise and obedient heart… perfectly carried out the Father's will… was a new and gentle heart, in which the Father was well pleased… a heart on which the law of the New Covenant was inscribed…. An undivided a pure heart…a steadfast and watchful heart, who endures without fear the sword of sorrow, and awaited in faith the resurrection of Her Son. May our hearts experience the fullness of the triumph of the Immaculate Heart by allowing Her Maternity give birth in us, a new and pure heart.