Apostle of the American Indians and African Americans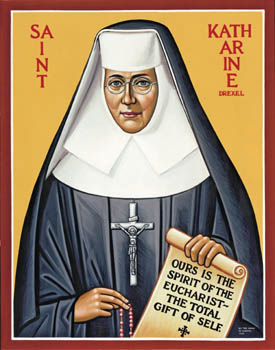 Feast: March 3
---
Saint Katharine was born on November 26, 1858 in Philidelphia, Pennsylvania, USA.  Her parents, Francis A. and Enma Drexel, were very wealthy.  From the time she was young they taught her to use her wealth generously.  Her older sister, Elizabeth, opened a school for orphans in Pennsylvania; her much younger sister founded a school for poor African Americans in Virginia.

Katharine cared for her mother for three years until she passed away in 1883.
Concerned by the great need of the Native American communities, Katharine asked Pope Leo XII during an audience in 1887, that he send more missionaries to the states of Wyoming, for her friend Bishop James O'Connor.  The Pope responded, "Why don't you become a missionary?"

Katharine visited the states of North and South Dakota, met the chief of the Sioux tribe, and began to systematically assist the missions to the Native Americans.  Over time, she spent millions of the family fortune in this work. Katharine entered the novitiate of the Sisters of Mercy.  She founded the Sisters of the Most Blessed Sacrament for Native Americans and African Americans in Santa Fe, New Mexico, USA in 1891.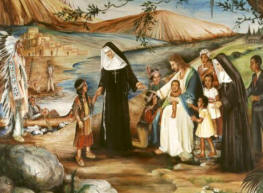 Mother Francis Cabrini, who is also a canonized Saint, advised her to receive the approval of Rome for the order.  She received this approval in the year 1913.

By 1942, she had a system of schools for Native Americans and African Americans in 13 states. This system included 40 missions, 23 rural schools, 50 missions for the Native Americans, and Xavier University in New Orleans, Louisiana, the first University in the United States for African Americans.  For all of her work Katherine suffered great persecution. 

After a heart attack, she spent the last 20 years of her life concentrating on prayer and meditation.  She died on March 3, 1955, in the mother house of her community in Bensalem, Pennsylvania.

Beatified: Novemeber 20, 1988 by Pope John Paul II
Canonized: October 1, 2000 by Pope John Paul II

For more information:
The Shrine of Saint Katharine at the motherhouse of the Sisters of the Blessed Sacrament,
1663 Bristol Pike, Bensalem, Pennsylvania, USA 19020-8502, tel/215.639.7878