Recompiled by SCTJM

APPARITIONS OF OUR LADY TO JUAN DIEGO

FIRST APPARITION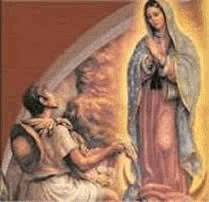 Ten years after Mexico City had been captured in the 1500's, war finally ended and there was peace throughout. With regard to spiritual realities everything still belonged to Tlatilolco. Yet, at this same time the faith and the knowledge of the true God for whom we live, move and have our being began to grow.
This blossoming occurred in the first days of December in 1531 with the life of a poor Indian named Juan Diego from Cuautitlán. It was Saturday just before dawn and Juan Diego, a worshiper and follower of the commandments, arrived at the small hill called Tepeyácac at day break. He heard singing on top of the hill that sounded like the singing of various beautiful birds. Every once in a while the singers would seize their music and it seemed as though the mountains would then respond. Their soft, melodious singing sounded like it came from the coyoltotl and the tziniscn and from other beautiful singing birds. Juan Diego decided to stop; he said to himself: "Am I worthy to hear what I am hearing? Perhaps, I am dreaming? Am I rising from sleep? Where am I? Am I in the earthly paradise that many ancient elders spoke of? Am I in heaven? Juan Diego was looking eastward, towards the hill where the celestial music was coming from, when suddenly there was silence. He then heard his name being called from the top of the hill; they were calling out:"Juanito, Juan Dieguito."
Without fear and rather joyfully, he courageously climbed the hill to approach the spot where they were calling out his name to see where the voice was coming from. When he reached the top he saw a woman standing who told him to come close.
As he got close to her he was amazed at her supernatural grandeur: "Her dress radiated like the sun." The crag she was standing on shot out in splendor, like jewels of precious stones that illuminated the earth like a rainbow. The mesquites, nopales and other different native plants seemed like emeralds, their foliage a fine turquoise, and their thorny branches glittered like gold. Bending before her he heard her very tender and cordial words, words coming as from one who attracts and is highly esteemed. She said to him: "Juanito, the smallest of all my children, where are you going? He responded: My Lady, my Daughter, I need to go to your house in México Tlatilolco, to follow the divine things that our priests, the delegates of our Lord, teach and impart to us."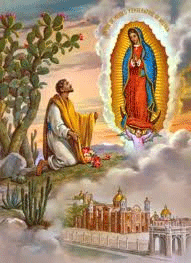 Then she spoke to him and revealed to him her holy will. She told him: "You the smallest of my children know and understand that I am the Blessed Virgin Mary- Mother of the True God for whom we live, the Creator through whom all things are made, the Lord of heaven and earth. I ardently desire that you build a church here so that in it I may give my love, compassion, help and defense, to you and all who live on earth, all those who love me; for I am your mother and I desire that you have confidence in me and invoke me. In this place I would like to listen to your cries and remedy all your miseries, pains and sufferings. And in order to accomplish what I am asking for in my clemency, go to the bishop of Mexico and tell him how I am sending you to reveal to him how much I desire that you build a church here on this plane. You will be punctual in telling him all you have seen, admired and heard. Be assured that I will be most grateful, I will pay you well because I will make you happy; and you will truly be worthy of the recompense I will pay you for the work and fatigue which you will endure for the request I have asked of you. You have already heard my command, my son- the smallest one of my children, so go now and put all your effort to fulfill it."
At this point, Juan Diego bowed before her and told her: "My Lady, I will fulfill your order; for now I take leave of you, me your humble servant." He thus went down to go and accomplish her mandate. Without delay he entered the city and went immediately to the bishop's palace.
FIRST INTERVIEW WITH ZUMARRAGA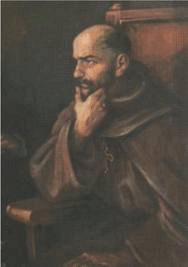 This bishop, the prelate named Juan de Zumárraga, a Franciscan religious had just recently arrived. As soon as Juan Diego arrived he begged his servants to tell the bishop of his desire to see him. After a long wait they came to tell him the bishop asked him to come in.
As Juan Diego entered, he knelt in front of the bishop and immediately gave him the message from the Lady from Heaven; he also shared all he had seen and heard. After listening to his message and all he had to say, the bishop did not seem to pay much attention. He told Juan Diego: "My son, you will come back on another occasion and I will listen to you speak to me more slowly. I will look at this entire thing from the beginning and think about the desire you have presented to me."
Juan Diego left sad because his message did not come to fruition in any way.
SECOND APPARITION
On this very same day he returned to the top of the hill and met with the Lady from Heaven who was waiting for him on the same spot where he saw her the first time. When he saw her he prostrated himself in front of her and told her; "My Lady, the smallest of my Daughters, my Child, I went where you commanded me. I went to see the prelate, and although I entered with difficulty I saw him and explained to him your message just as you advised. He received me well and attentively listened. But as soon as he responded it seemed he did not believe me, for he said to me: "My son, you will come back on another occasion and I will listen to you speak to me more slowly. I will look at this entire thing from the beginning and think about the desire you have presented to me." By the way he responded to me I understood that he probably thinks that I am inventing that You want them to build a church and that this is probably not an order coming from You. That is why I beg you My Lady and My Daughter, You my Child, the smallest of my daughters, My Lady, that you send someone more well known, respected and esteemed with your message so that they will believe him because I am just a little man, I am just a rope, a tail, a leaf, I am insignificant and you have sent me to a place where I am not accustomed to going. Please forgive me if I cause you great grief and annoy you, my Lady and My owner.
The Blessed Virgin Mary responded: "Listen, smallest one of my sons, understand that I have many servants and messengers that I can ask to do my will and deliver this message, but I specifically need you to solicit and help with your mediation for my will to be accomplished. You, the smallest one of my sons, I rigorously petition you to go see the bishop once more tomorrow. In my name let him know the full extent of my will and that he has to begin working on the church that I am requesting. Once more tell him that the ever Virgin Mary, the Mother of God is sending you."
Juan Diego responded: "My Lady and my Daughter may I not cause you affliction; with great eagerness I will go to accomplish your will. In no way will I leave this work undone nor do I consider it burdensome. I will go to do your will. But I may not be well listened to, or they may hear me yet not believe me. Tomorrow in the afternoon when the sun sets, I will come to inform you what the prelate says to me regarding your message. So I bid you farewell my smallest Daughter and Lady. Rest amidst so much." He then left to go rest at home.
SECOND INTERVIEW WITH ZUMARRAGA
The next day on Sunday at daybreak, he left his house and went straight to Tlatilolco, in order to learn about divine things and to see the prelate as soon as possible. At around ten, after hearing mass and dispersing himself amidst the crowd, Juan Diego went to the bishop's palace. As soon as he arrived, he did everything possible to see him. And again with great difficulty, the bishop finally saw him. Then Juan Diego knelt at his feet, became very sad and cried as he explained the charge given him by the Lady from Heaven. He hoped the bishop would believe his message regarding the Immaculata's will that he build her a church where she wanted it.
The bishop asked him many questions to find out more: where did he see her, and what was she like? Juan Diego explained everything to him perfectly. He also described in detail the figure of the Lady and all he had seen and admired, how in everything she appears to be the ever Virgin Mary, the Most Holy Mother of our Savior and Lord Jesus Christ. Yet, the bishop did not give credence to his words and solicitude. His stories were not enough reason to do what he was asking of him; it was also necessary for the bishop to receive a sign so he could believe Juan Diego was being sent by the Lady from Heaven. So Juan Diego told the bishop: "Lord, what will be the sign that you ask, so that I can then go and ask it of the Lady from Heaven who is sending me here?"
The bishop seeing Juan Diego confirmed everything without doubting and without retracting anything, bid him farewell and then immediately sent people he could trust to the little Indian's house. The bishop asked them to follow him and keep a look out of where he went and who he saw and talked to. This they did.
Those who were following him saw Juan Diego go straight on the road that passes close to the Tepeyácac Bridge; then they lost him. They looked for him everywhere, but did not find him. So they turned back because they were very disturbed and annoyed at their foiled attempt. So they went to inform the bishop; persuading him not to believe Juan Diego. They told him that he would not deceive them again, that he was making up the things he was saying, and that he only dreamed the things he said and asked for. They decided that if he came back again, they were going to catch him and punish him harshly so he would never again lie or deceive them.
THIRD APPARITION


In the midst of all this Juan Diego was with the Blessed Virgin Mary telling her the response he received from the bishop. When the Lady heard it she said, "Ok, my son, you will come back here again tomorrow so that you can take the bishop the sign he asked for. With this he will believe you; he will not doubt about this again, nor will he doubt or suspect anything about you. Know my little son that I will pay you for your attention and the work and fatigue that you have assumed for me. You can go now; tomorrow I will wait for you here."
On the following day-Monday, the day Juan Diego needed to take the sign in order to be believed, he did not return. This happened because when he got home his uncle, Juan Bernardino, became gravely ill. He first went to call a doctor who came to help, but it was already too late he was already too grave. At night his uncle begged him to come to Tlatilolco at daybreak to call for a priest to hear his confession; he was certain that he would not recover from this and that it was his time to die.
On Tuesday at day break, Juan Diego went from his home to Tlatilolco to call the priest. As he was getting close to the Tepeyácac hill where he passed through regularly, he said: "I will go straight, otherwise the Lady will see me and detain me so that I can take the sign to the prelate as she had asked me. But first our affliction must end; I must go hurriedly to call the priest since my poor uncle is most certainly waiting." So to reach Mexico quickly without being detained by the Lady from Heaven, he turned east to climb up the hill from the other side.
THE FLOWERS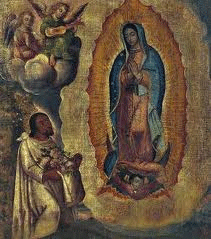 Juan Diego mistakenly thought that she who sees everything would not be able to see where he turned. But, as she was coming down the top of the hill, he saw her looking at him. She came to meet him at the side of the hill and said to him: "Hello my son, the smallest one, where are you going?"
Was he a bit embarrassed, ashamed or scared? Juan Diego knelt down before her and greeted her saying: "My daughter, the smallest one of my daughters, my Lady I hope you are happy. How did you wake up this morning? How is your health my Lady and my daughter? I believe I am going to cause you some affliction. Know, my Daughter that one of your servants, my uncle, is very ill with the plague; he is at the point of death. I am on my way now to your house in Mexico to call on one of our Lord's beloved priests for him to confess and prepare him, because from our birth we are here to guard the work of our death. But after I go do this I will come back here again so that I can take your message my Lady and my Daughter. Please forgive me; for now be patient with me. I am not deceiving you, my Daughter, the smallest one. I will come back in a great hurry tomorrow."
After listening to Juan Diego's conversation, the pious Virgin replied: "Listen and understand my son, the smallest one, that what is scaring and afflicting you is nothing. May your heart not be disturbed; do not be afraid of that illness, nor any other illness or anguish. Am I not here who am your Mother? Are you not beneath my shadow? Am I not your health? Are you not by chance in my embrace? What more could you need? Do not be distressed nor be apprehensive by anything. Do not be grieved by your uncle's illness, for he will not die from it now. Be sure that he is already healed." (Later it became known that his uncle was healed at that time.) When Juan Diego heard these words of the Lady from Heaven, he was much consoled and became very happy. He begged her to send him as soon as possible to see the bishop to take him some sign and proof so that he would believe him.
The Lady from Heaven later ordered him to climb to the top of the hill where they had previously met. She said: "Climb up my son, the smallest one, to the top of the hill where you first saw me and where I gave you orders. You will notice that there will be different flowers; cut them, gather them together, pick them up and then immediately come down and bring them to my presence."
Juan Diego went up the hill immediately; when he reached the top he saw there were a wide variety of Castile roses in bloom. He was amazed since the weather was harsh from the ice and it was before their season for blossoming. Still the flowers were fragrant and full of night dew resembling precious pearls. He started to cut them, gather them together and placed them in his lap. He climbed down immediately and brought the roses to the Lady from Heaven. When she saw them she took them in her hand and once more placed them in his lap saying to him: "My son, the smallest one, this diversity of roses is the proof and sign you will take to the bishop. You will tell him in my name to see in them my will and that he has to fulfill it. You are my ambassador, very worthy of my trust. I rigorously order that you only unfurl and reveal what you are carrying in your mantle in front of the bishop. You will relay everything to him. You will say that I asked you to climb to the top of the hill and to cut the flowers you saw and admired so that you can induce the prelate to give his help to erect the church I have asked for."
After the Lady from Heaven gave him advice he made his way through the road that goes straight to Mexico. He very carefully brought what he carried in his arms so that nothing would fall from his hands. He rejoiced in the fragrance of the various beautiful flowers for he was happy and assured now that everything would go well.
FOURTH APPARITION AND INTERVIEW WITH ZUMARRAGA


When Juan Diego arrived at the bishop's palace the bishop's butler and his other servants met him. Juan Diego asked them to tell the bishop he desired to see him. But none of them wanted to, they acted as if they did not hear him. Perhaps it was because it was too early or because they already knew him and that he only came to bother them, perhaps because he was importune, or perhaps because their peers had informed them they lost sight of him when they tried to follow him. Juan Diego waited a long time. After seeing him there a long time standing with his head to the ground without doing anything- just in case he was called, and since it also seemed as though he was carrying something in his arms, the servants came close to him to satisfy their curiosity to see what he had.
Juan Diego noticing he could not hide from them what he was carrying and since they were bothering and pushing him around because of it, he allowed them to have a peek at the flowers. When they saw he was carrying different kinds of Castile roses- though they were not in season, that they were blooming, fresh, open, fragrant and so beautiful- they were amazed. So, they tried to take some away from him but were unable to because when they went to grab them they no longer saw them as real flowers but rather as if they had been either painted, carved or embroidered on the mantle he was wearing.
They then went to tell the bishop that the little Indian who had previously come so many times had come back again, that he had been waiting for a long time and what they saw him carrying. The bishop realized that he was carrying the sign needed to confirm what the little Indian had been soliciting. So he immediately sent for him.
When Juan Diego entered he humbled himself in front of the bishop as he had done before. He again recounted his message and all he had seen and admired. He said: 'Sir, I did what you ordered, I went to tell my Mistress, the Lady from Heaven, Holy Mary, beautiful Mother of God, that you asked for a sign so you could believe me that you are to build a church where she asked you. I also told her what you charged me with: that I had given you my word to bring back a sign of her choosing. She graciously acquiesced and consented to your request for a sign in order to fulfill her will. Early this morning she ordered me to come see you. So, I asked for the sign she had agreed to give me so that you would believe me. And she did immediately. She sent me to the top of the hill where I had seen her before and asked me to cut various Castile roses. I went to cut them and brought them down; she took them in her hands and then placed them once more in my arms so that I would hand them to you in person. Although I know that the top of the hill is not a place where flowers grow since there are only many thorns, crags, thistles, and thorny plants like nopales and mesquites, still I did not doubt. As I was reaching the top of the hill, I was in the midst of a paradise surrounded by many types of exquisite Castile roses, shining and still wet from the dew. So, I cut them. She then told me that I needed to give these to you so you would see in them the sign you are asking for to fulfill her will, and also so that you believe my message and the truth of my words. So I bring these to you, receive them."
THE IMAGE ON THE TILMA

Juan Diego had the flowers within his embrace; as he unfurled his white mantle all the different kinds of Castile roses dispersed to the ground and suddenly there appeared painted on it a beautiful image of the ever Virgin Mary, Mother of God, the same one that is kept today in the temple at Tepeyácac that we call Guadalupe. When the lord bishop and all who where there saw her, they knelt down and admired her. As they contemplated her with their thoughts and hearts, they became sad and moved. With tears of sadness, the lord bishop prayed and asked forgiveness for not having paid any attention to her work, will and mandate. When he got up he untied from Juan Diego's neck the mantle where the Lady of Heaven's image had suddenly appeared painted. He then took it and placed it in his oratory. Juan Diego remained one more day detained by the bishop in his house. The following day he asked Juan Diego: "Show me where it is that the Lady from Heaven wants me to build her church." Then all where immediately invited to go see the place.
THE FIFTH APPARITION: The Name of Guadalupe


Once Juan Diego showed them where the Lady from Heaven had wanted a church to be raised, he asked license to leave. He wanted to go home to see his uncle, Juan Bernandino who had been gravely ill when he had been on his way to Taltilolco to call the priest to hear his confession when the Lady from Heaven told him he had already been cured. But they did not allow him to go alone; they all accompanied him to his home.

As he arrived, they saw the uncle painless and happy. He was amazed that his nephew had arrived accompanied and honored by so many, so he asked Juan Diego what was the reason for all of this. The nephew responded that when he went to get him a priest to hear his confession the Lady from Heaven appeared to him at Tepeyácac. She told him not to be distraught since his uncle was already healed. Juan Diego being much consoled was then sent by her to Mexico to see the bishop. The Lady told him that when he went to see the bishop to ask him to build her a home in Tepeyácac. Juan Bernandino then told Juan Diego that it was true, that at that time he had been healed and that he also saw her the same way as his nephew was describing her. She had also told him that she had sent Juan Diego to go see the bishop and asked him that when he saw the bishop to reveal to him what he had miraculously seen and how she had healed his uncle. She also said that they should name her blessed image, the ever Virgin, Holy Mary of Guadalupe.
Later on they brought Juan Bernandino to inform and testify in front of the bishop in person. The bishop housed him and his nephew in his home until the Queen of Tepeyácac's Church was erected. The bishop then too k the image of the beloved Queen of Heaven out of the oratory in his palace and transferred it to the Major Church so that all the people could see and admire the blessed image. The entire city was moved and came to see, pray before and venerate their devoted image. They were all amazed that the blessed Mother would appear to them and perform miracles, most especially the fact that no one had painted her beautiful image on the mantle.
The Popes and Our Lady of Guadalupe
Pope P
ius X proclaimed Our Lady of Guadalupe "Patroness of All of Latin America"; Pius XI proclaimedher Patroness of "all the Americas"; Pius XII called her the "Empress of the Americas"; and John XXIII "The Heavenly Missionary of the New World" and "the Mother of the Americas." In this great basilica, John Paul II beatified the Indian Juan Diego on May 6, 1990.

In his four visits to Mexico, John Paul II visited Tepeyac and honored Our Lady of Guadalupe to whom he had entrusted the American continent and the New Evangelization with profound filial love.
Our Lady of Guadalupe, Defender of Life
Pope John Paul II teaches us that, before the actual culture of death, we find hope in Our Lady of Guadalupe, the great advocate and defender of human life. She appeared pregnant. The indians understood that the Mother of God was visiting them. Through conversion, the indians stopped offering human sacrifices that until then were very common. For this reason, the Church today asks Her intercession to defend life against the genocide of abortion and other threats against the innocent.

On his fourth visit to Mexico, from January 22-26, 1999, John Paul II placed at the feet of Our Lady the document from the American Synod which on that occasion he gave to the Church as a foundation for the New Evangelization that is only possible by the work of the Holy Spirit. Our Lady is she who brings about this divine action with her FIAT. Thus she is the corredemptrix with her Son Jesus Christ. The fourth visit of the Pope to Mexico coincided with the 26th anniversary of the legalization of abortion in the USA, bringing prominence to the great world battle for the dignity of human life.
Scientific Studies on the Image of Our Lady of Guadalupe
The surprising discoveries surrounding the image of Our Lady of Guadalupe have scientists amazed. A commission has been formed to investigate the inexplicable phenomena of this cloth that was the 'ruana' or poncho of the indian Juan Diego.
The Phenomenon of the Cloth
The first thing that called the attention of experts in textiles was that the cloth of 'ayate' upon which the image of Our Lady appears is made of plant fiber "maguey". By its nature, this fiber decomposes through putrefaction in 20 years or less. This has happened to several reproductions of the image that have been made with the same knit. Nevertheless, the 'ayate' of the image has withstood more than 470 years perfectly preserved. For reasons unknown to experts, the 'ayate' of the image is resistant to humidity and dust.

The image of Our Lady of Guadalupe was exposed for 116 year to the elements and weather, without any protection against dust, humidity, heat, smoke from candles, and the continuous rubbing of thousands of objects that were touched to the venerated image, in addition to constant contact with hands and kisses of innumerable pilgrims. All this without fading or fraying the beautiful image.
The Phenomenon of the Image
The paint that covers the cloth is another mystery. The wise German Kuhn, Nobel prize-winner in Chemistry, studied the paint, and his response left hearers stunned: "These dyes are not mineral, plant, or animal based." They have not been able to explain the origin of the pigments that color the image, nor the way in which it was painted.

It could be thought that the cloth has withstood so much because they had sealed and prepared it in a special way like other famous paintings so that it would be well preserved. But Mr. Callaga, from NASA in the US, studied it with infrared ray machines and discovered that the cloth has no sealant nor preservatives, and that it cannot be explained how the image has withstood four centuries on an ordinary cloth. With these infrared rays, he discovered that the image does not have prior sketches - like can be seen in the images of Rubens and Tiziano-, but that it was captured directly, just as it is seen, without estimations or corrections.

The image does not have brushstrokes. The technique used is unknown in the history of painting. It is incomprehensible nor repeatable.
The Phenomenon of the Pupils
A famous optician, Lauvvoignet, examined the pupil of Our Lady with a powerful lense and observed, amazed, that in the iris the image of a man is reflected. This was the beginning of an investigation that led to the most unexpected discoveries.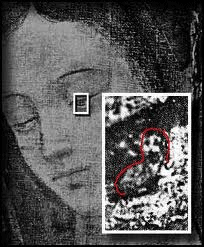 By means of digitalization, in a photograph of the pupil, one can observe all that the person was seeing at the moment the picture was taken. Dr. Tosnman, a specialist in digitalization, took photographs of the pupil of Our Lady of Guadalupe. After magnifying it thousands of times, he was able to capture details impossible for simple sight to catch. He discovered what Our Lady saw at the moment the image was formed on the tilma of Juan Diego!

The details that appear in the photographs of the pupil of Our Lady of Guadalupe are: an Indian in the act of letting down his poncho before a religious; a Franciscan with a tear running down his cheek; a man with his hand on his beard in admiration; another Indian with a prayerful attitude; some children and several more Franciscans. All the people that, according to the history of Our Lady of Guadalupe written centuries ago, were present in the moment that sacred image appeared.

It is radically impossible is that in such a small space, like the cornea of an eye situated in an image of a natural size, even the most expert miniaturist would be able to paint these images that have needed to by magnified two thousand times to see.
Temperature
When the temperature was taken of the maguey fiber that makes up the tilma, it was discovered that it miraculously maintains a constant temperature of 98.6 degrees, the same as the body of a living person.

The Stars
The stars visible on the mantle of Our Lady correspond to the exact configuration and position tht the sky in Mexico presented on the day the miracle happened, according to astronomy studies done about the apparition.

Preservation of the Cloth from a Bomb
On November 14, 1921, Luciano Perez, a Spanish anarchist, put a flower arrangement beside the tilma of Juan Diego that contained a high-powered bomb. The explosion destroyed everything around it except the tilma, which remained in perfect condition. A Cross of heavy metal that was found nearby was totally bent by the explosion and is kept as testimony in the basilica. Nevertheless, the crystal that protected the tilma did not break taking into account that there was no bulletproof glass at that time.
Modern science remains without explanations before the marvels of the image of Our Lady of Guadalupe. It is an unrepeatable reality. It surpasses all natural possibilities, as such it can be sad that we are before a supernatural fact.

A tilma that does not decompose. Colors that were not painted. A pupil that contains the whole scene and all the people at the moment of the miracle. We are before an image that neither weather nor the attacks of men filled with hate can conquer.

Our Lady does not impose herself, does not challenge or humiliate her enemies. The miracle of her presence on Tepeyac is real but very subtle. It is a miracle that does not appear as such at first glance. She wants to be a confirmation of the truth to help hearts that have been hardened yet are still searching.

For the simple of heart, the miracles are not necessary to have faith. They capture it by the grace of the Spirit of solicitous love of the Mother of Heaven who comes for them.

The enemies of Our lady are many times very powerful people, but they pass and become dust. Our Lady remains as witness that the love of God is eternal. She has wanted to be a beacon of light planted in the heart of the American continent to attract all to Christ, Savior and Eternal Life, only hope before the ruin that humanity finds itself in. She has wanted to give us a miracle to help unbelieving generations. She has wanted to show with her characteristic humility, that science has its place, but also has its limits. She reminds us of the words of the angel: "For God, nothing is impossible."
Prayer to Our Lady of Guadalupe
Our Lady of Guadalupe,
Mystical Rose,
make intercession for holy Church,
protect the sovereign Pontiff,
help all those who invoke you in their necessities,
and since you are the ever Virgin Mary
and Mother of the true God,
obtain for us from your most holy Son
the grace of keeping our faith,
of sweet hope in the midst of the bitterness of life
of burning charity, and the precious gift
of final perseverance. Amen.

Bl. John PAuL II and our lady of GUADALUPE
She is the Star of the First and the New Evangelization!
Homilies of Bl. John Paul II in Mexico
1979
Meeting with Priests and Religious at the Basilica of Our Lady of Guadalupe, Saturday, January 27,1979: "Under the Motherly Gaze of Our Lady".

Meeting with Religious Women in the Basilica de Guadalupe, January 1979: "before her, the perfect model of woman, the best example of a life dedicated entirely to her Son."

Speech to the Third General Conference of the Latin American Episcopate, Puebla, Mexico, Sunday, January 28, 1979: "May she, the "Star of evangelization", be your guide."
1999
Meeting with Representatives of All the Generations of the Century, January 25, 1999: "Marking a nwe path in humanity's history"
Message to the Sick in Mexico, January 24, 1999: "Am I not your health?"
Homily at the Basilica of Our Ladyof Guadalupe, January 23, 1999: "Blessed are you for believing, blessed are you for hoping, blessed are you for loving, because the Lord's promise will be fulfilled."
To be continued...
LINKS
Link to Official Page of Basilica in Mexico
The Mystery in Our Lady's Eyes: A Study on the Eyes of Our Lady of Guadalupe
The Story of Our Lady of Guadalupe

This page is the work of the Servants of the Pierced Hearts of Jesus and Mary
Copyright © 2006- SCTJM